Name: Elizabeth Ann Carter, later Smith, later Carson
Born: 12/7/1897 (or 1898) [SSDI]
Died: 3/16/1967 in Michigan [SSDI]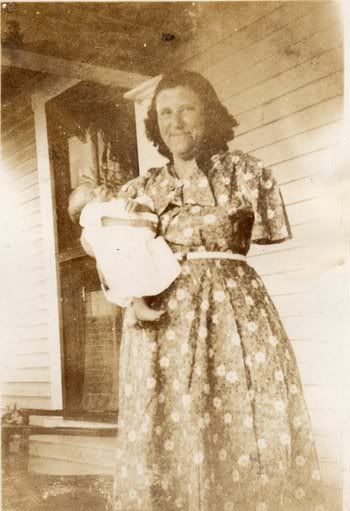 Bessie Smith with Aunt Patricia, 1942 (or 1943).
Marriage One: James Elias Smith, approx 1918 [JES WWI draft card]
Marriage Two: Alfred Ray Carson, approx 1940 [Port Arthur News, June 5, 1940]
Residences:
1900 Census:
Location: Texarkana, Miller County, Arkansas. Lived on "Pecan."
Father: W. Sherman Carter (b. July 1865)
Paternal Grandmother: Ann (b. Feb 1932 in TN, both of her parents were also from TN)
Siblings: Clara (b. Nov 1891), Matilda (b. Sept 1892), Myrtle (b. May 1895).
Notes: No mother is listed, so my guess is that Bessie's mother was dead before then.
Source: Year:
1900
; Census Place:
Texarkana, Miller, Arkansas
; Roll:
T623 68
; Page:
18B
; Enumeration District:
122
. Ancestry.com.
1900 United States Federal Census
[database on-line]. Provo, UT, USA: The Generations Network, Inc., 2004. Original data: United States of America, Bureau of the Census.
Twelfth Census of the United States, 1900
. Washington, D.C.: National Archives and Records Administration, 1900. T623, 1854 rolls.
1910 Census:
Location: Texarkana, Miller County, Arkansas. On Broad Avenue.
Father: W. Sherman Carter (b. 1865 in TN. His father was born in VA, his mother in Kentucky), contractor/brickworks,
Step-mother: Ada M
Siblings: Clara (18?), Tillie (16),
Half-Siblings: William (5), James (3), Richard (2), Kelley (sp?)(1).
Notes: All of the children were born in Arkansas.
Source:
--Sometime between 1910-1920, she had lost her left arm and right leg due to blood poisoning.

1920 Census: Bess lived in Little Rock, Pulaski County, Arkansas. Lived with James Elias Smith and their three children. According to the this census, her father was born in Kentucky and her mother born in Tennessee.

--Last child was born 1927. Husband James Elias Smith died between 1927-1930.

--According to my 2nd cousin Lisa, Bessie's children were sent west on an orphan train and Bessie followed them out there.

1930 Census: Bess lived in El Paso, was a house servant for an Earl Barron. Shows that she is a widow. Her children stayed in the El Paso Protestant Children's Home. Her children are/were: James Everett Smith, Sr. (my grandfather), Clara Nell, Mabel Irene, Edward Charles, Annie Laurie, Wilma, and William Carter.

-1933-1940: Bess took children out of children's home and moved them to Port Arthur. This is disputed by my cousins who say the children never returned to their mother's care. Grandfather James Everett Smith joined CCC then the army.

1940-lived in Port Arthur, married Alfred Ray Carson, staff Sargent in US Army, born approximately 1912.

-lived in Port Arthur, TX for many years, then after death of A.R. Carson, moved to Michigan with son, Edward Charles.

-died 1967 in Michigan.

Notes: She was dark complexioned and my dad says that she was part Native American, but he doesn't know how much so or from what side of the family. Below are two links to pictures of my great-grandmother in 1942 with my aunt Patricia. My 2nd cousins say that Bessie worked/lived on an Indian reservation in New Mexico.


Questions: How did a double amputee marry a staff Sargent from a well known Port Arthur family who was 14 years younger than her? How did she meet him when she was living in Little Rock, then El Paso, neither of which are close to Port Arthur (east coast of Texas near Galveston)? Who was Bess' mother? Where was William Sherman Carter in 1870?

Posted to: Carter, Miller AR, Arkansas Genealogical Society, Arkansas Family History Association